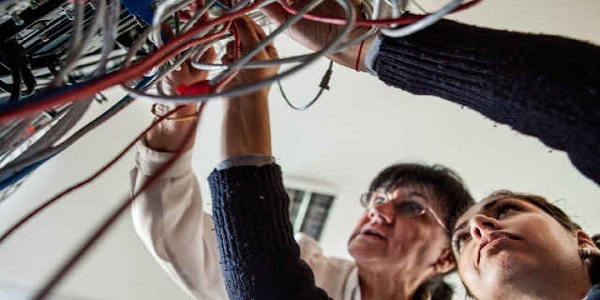 Course Summary
The CCNA Routing and Switching curriculum is a gateway to entry-level networking jobs and IT careers. The curriculum consists of 4, 70-hour courses: Introduction to Networks, Routing and Switching Essentials, Scaling Networks, and Connecting Networks. The first 2 courses prepare you for the Cisco CCENT certification exam or to study CCNA Security. All 4 courses are recommended before taking the Cisco CCNA Routing and Switching certification exam.
Develop a working knowledge of routing, switching, network applications, protocols, and services.

Study with an instructor in the classroom and access expert content online anytime.

Practice what you learn on both real equipment and

Cisco Packet Tracer

, a network configuration simulation tool.

Get immediate feedback on your work through built-in quizzes and tests.

Prepare for the workplace with collaborative projects and presentations.

Connect with the global Cisco Networking Academy community.
Career Pathways
CCNA Routing and Switching curriculum builds the skills you need to get hired and succeed in jobs related to networking computers, devices, and things. Whether you're preparing for your first job or specializing with more study, CCNA is a great foundation.
Career pathways include: network technician, support engineer, network administrator, network designer, network engineer, and more.
Certification: Cisco CCENT or Cisco CCNA Routing and Switching
About Instructor-led Courses
UNIOSUN Cisco Networking Academy partners with Cisco Networking Academy to deliver on-site, instructor-led learning experiences. UNIOSUN Cisco Networking Academy is an IT skills and career building development program for learning organizations and individuals worldwide. We prepare students, organization and individual to join the IT workforce.